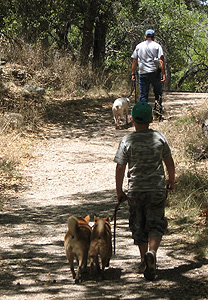 Imagine life with a trained dog!
Your dog will be both on and off leash reliable. Imagine a world in which you can hike, walk and enjoy your dog. You'll BOTH be happier!
The ForceFree Method™ is new. So new, in fact, that only a very limited number of skilled trainers have ever even heard of it. Maryna has refined this method over the last several years to yield an approach that is amazingly gentle, uses no force, and that works with virtually all dogs.
 
The method works quickly, yet is calming. In a free demonstration, you'll see your dog's behavior change in front of your eyes. That's not the best part though. The interesting aspect is how HAPPY your dog's attitude will be. You'll watch him calm and change his behavior as he learns.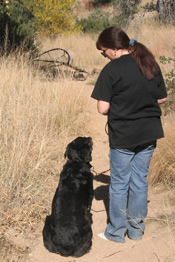 Rottie doing picture perfect sits on an offleash expedition in Carr Cyn meadow in Sierra Vista during owner training
How long does it take us to show your dog how to walk on a loose leash, for example? Between two and four minutes. How long does it take us to show you a sit stay? About a minute.
 
What will you see? You'll see a wagging tail and a relaxed dog during the entire process. What won't you see? You won't see any force, you won't see any choking, and you won't hear a harsh word. In fact, most training is combined with play to teach control under distracting conditions.
 
The ForceFree Method™ will change your dog's life for the better. Why do we GUARANTEE it for the life of your dog? Because it works!
Call us for a free consultation today!
520-266-3124