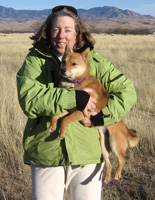 The Shiba Inu you see on this site are my personal dogs. The little male on the front page is Rusty, a 5 year old neutered male rescue, who I have had for about 1.5 years now. When Rusty came, he had never been out of a back yard kennel, knew what no common noise was, not water running, toilets flushing, refrigerator doors closing, not anything. He was terribly frenetic, with OCD spinning, and a startle reflex off the charts. Happily, he is a pretty normal dog these days, fully offleash trained and enjoying life at the ranch and the numerous expeditions he gets to go on. The star of the video is Lily, my beautiful 2.5 year old Copperdots bitch, (when we filmed the video she was a little over 6 months old) who is also my accomplished working medic alert dog with six major asthma alerts to her credit. She travels with me everywhere and is an extraordinary ambassador for the breed.
Neither dog was a simple train, nor are they simple to maintain. Super rewarding, but not simple. I used to call up trainer buddies when Lily was small, claiming that I was going to have to go back to University just to keep up with her. Despite their mesmerizing cute appearance, they are a fierce hunting dog. Remember that Shibas were actually used to hunt boar. There are still two competitions a year in Japan to test the breed for suitability for the hunt, using live game. So, they are very independent, with a super high prey drive, extremely intelligent, suffer fools poorly, and think way, way outside of the box. I cannot imagine a moment without them.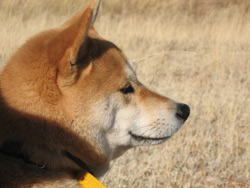 If you've had big dogs that you have managed to train up to a reasonable level of obedience you would do fine with this breed. I always joke and say that this is the German Shephard afficionado's retirement dog. If you have only had small dog housepets that you have never even taken to an obedience class, you are likely to fail miserably with this breed. Training and early socialization are musts with shibas. They need clear, consistent instruction, lessons that present an interesting amount of variety, and thrive the best with serious offleash training so that they can move and do what they were bred to do. Think German Shorthaired Pointer in a small fluffy body, not Llasa Apso, and you will have a better picture of what Shibas are like.

Not a breed for the faint of heart, but a breed to win your heart for eternity.