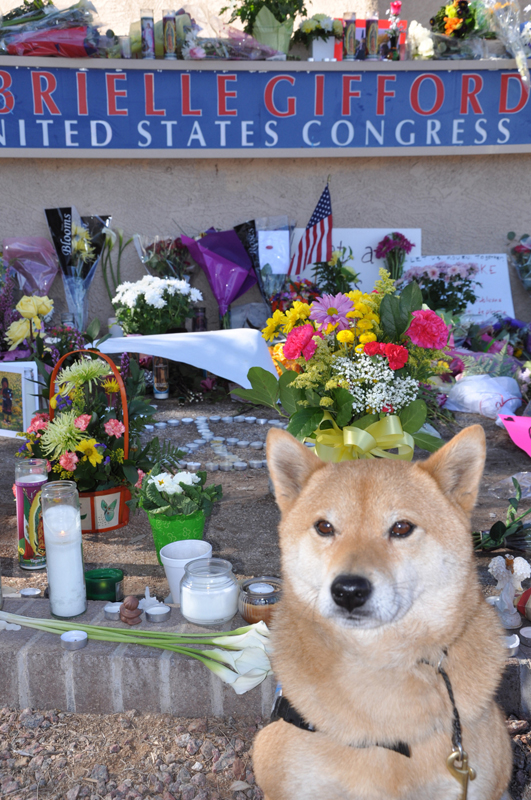 As many of my colleagues and clients know, I have been speaking for months about the climate of violence here in Arizona. I was shocked at the tenor of personal attacks against Gabby during the election, enormously proud of her tenacity, integrity and vision of our region and our country. I know no other representative who has the insight she has into the complexity of our border region, where violence has become a daily companion. That Gabrielle Giffords was targeted by an unstable madman after being persistently targeted by political fanatics comes as no surprise to anyone who has lived within this region for the last two years. That Gabrielle is one of the leading voices against the rise of violence across the border from the drug cartels only makes the incident more poignant. Gabrielle has long been a finger of reason in the dike of intolerance. I pray by the moment for her speedy and full recovery.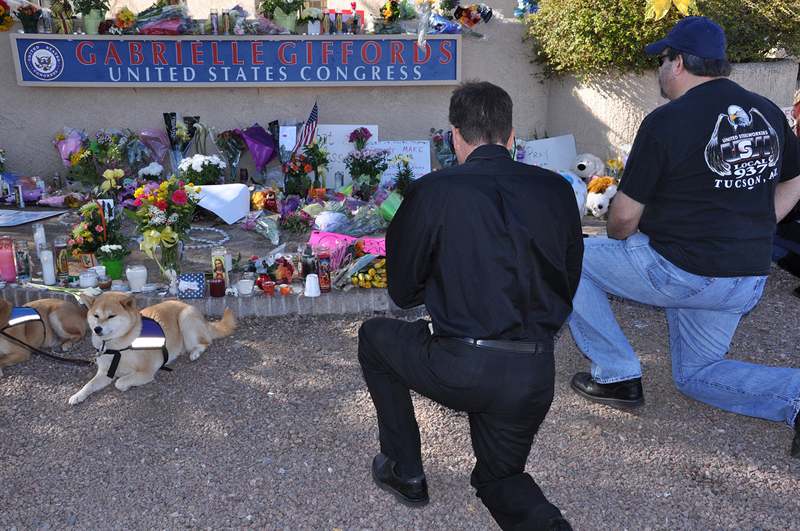 In my other professional life, I am an attorney and John Roll was the Federal Court Judge who presided over the Tucson 6 case for which I was the case coordinator for the defense from 1992 - 1994. Meticulously prepared always, professionally courteous, he suffered fools poorly, and expected the very best of the lawyers who appeared in front of him. Like all of us, he had his own personal political views, but professionally, I found him to be an extraordinarily hardworking, uncompromisingly fair and dedicated jurist. His loss is an absurd and horrific waste of a regional and national resource.
As to the other victims and most particularly the child, Christina Green, my soul cannot yet even encompass these losses. I have known great loss, and my heart breaks for these families.
Photo by Dyan Bone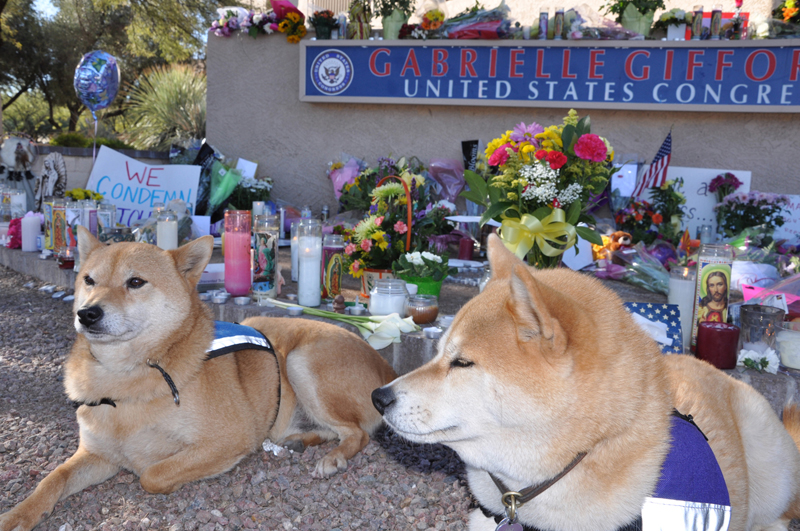 I ask all of us to stand up. To stand up for communities of dialogue. To stand up for respectful disagreement. To stand up for alternative dispute resolution. To stand up for conflict resolution training in our schools, in our workplaces, in our churches, in our communities, in our governments. To stand up for an end to violence as a means of expressing pain. Knowledge, skills, empathy, and compassion are tools to heal pain and threats of violence. None of us were taught these things in kindergarten or perhaps ever in our lives, but it is long past time to learn, for all of us, from youth to elders. It is time that skills of peaceful dialogue are considered as important a skill set as language or computers. I pray for a healing for all the victims and their families. I pray for healing for our communities, our region, our state, our country and our planet. I hold my dogs close, touch the earth, and ask for patience and wisdom. Hug your dogs. Hug your family. In the words of astronaut Scott Kelly, "We can do better."
photos by Dyan Bone