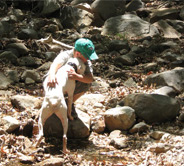 Arizona Doggy Dude Ranch is one of the Southwest's premier Dog and Puppy training programs. Working with dogs from everywhere including dogs from the Greater Tucson Area, the Greater Phoenix Area, and all over the United States. We use our our holistic, ForceFree Method™ dog training approach engaging the dogs body, mind and spirit so you end up with a dog that can go with you anywhere. Your dog becomes the valued family member you've always wanted him to be!
Our entire dog training focus is on fixing the behavior of your dog. We do this quickly, effectively and lovingly. Plus we GUARANTEE our ForceFree Method™ of Dog Training for the life of your dog.
Just imagine your dog will:
Come when called every time...on or off leash!
Sit or down when asked...for as long as you want!
Walk like a gentleman or lady on a loose leash!
Be well behaved, attentive and HAPPY!
Your dog can do this! The ForceFree Method™ of dog training will change your dog's life for the better. Why do we GUARANTEE it for the life of your dog? Because it works!
Call us for a free consultation today!
520-266-3124
We offer dog training for dogs everywhere including Phoenix, Scottsdale, Mesa, Chandler, Tempe, Glendale, Peoria, Wickenburg, Tuscon, Sierra Vista, Green Valley, or Casa Grande - contact us to ask about a free family dog assessment and for all your training needs.