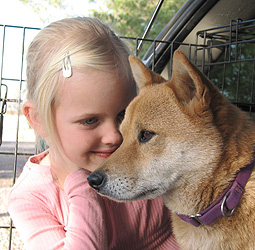 Our most popular dog training option is our ForceFree Method™ Dog Boarding School. During our ForceFree Method™ Dog Boarding School your dog lives in our home in Sierra Vista, AZ for 10 days with our family and learns how to be a polite, well mannered pet. You simply return at the end of the 10 day ForceFree Method™ Dog Boarding School and pick up your trained dog.
We're so sure that our holistic, ForceFree Method™ Dog Training Method that works with the mind, body, and spirit of your dog will give you lasting dog training results we guarantee it!
We offer 3 levels of dog training boarding school:
Puppy Camp | Teen Camp | Adult Camp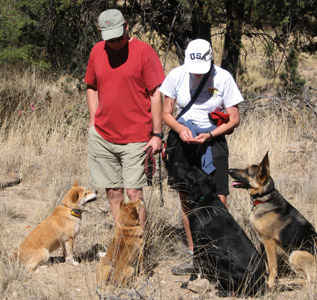 "Sits under distraction during pack walk. Sit still means sit no matter what's going on."
Just imagine being able to take your dog anywhere, even off leash, and not having to worry about bad behavior or running away. The Doggy Dude Ranch can help you to have the dog you've always wanted!
In only 10 days, Doggy Dude Ranch dogs learn to...
Come when called every time...on or off leash!
Sit or down when asked...for as long as you want!
Walk like a gentleman or lady on a loose leash!
Pay attention when you need them!
Be wonderfully well-mannered pets inside and outside the home!
Doggy Dude Ranch dogs also learn what not to do...
Not to jump on people
Not to charge through doors
Not to dig in the garden
Not to bark and chew inappropriately
Not to climb on furniture you prefer they avoid
Not to sniff and eat off the table and counters.
Not to be wild and uncontrollable
Not to ignore you when you want their attention