Teen Camp: Building the Foundation
For pups from 8 - 18 months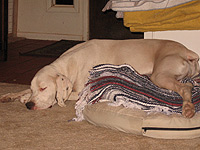 Puppy napping after a hard morning's work.
AH, THE TEEN STAGE... Adolescent dogs are often at the stage where their exuberant nature exceeds their mental focus with various dire consequences. Depending on how much puppy foundation training they had or their size, it can suddenly seem as if what was one cute puppy has become it's very own pack of dogs in one body. The amount of damage that one adolescent can cause in a short period of time is truly astounding. Most of the time this is without any evil intent on their part, but nonetheless, the results are the same. Jumping, digging, chewing, added to age, persistence, increased mental focus, size and strength can result in a household where your beloved puppy is just no fun any more. You love him and want to kill him in equal measure..... Teen Camp is the perfect dog training solution.
Or, you may have done a fair amount of puppy foundation but now want to kick it up a notch and have a dog you can really take places, or travel with, and maintain the higher, more precision level of obedience needed for those tasks, including being able to work and play with your dog offleash. Again Teen Camp is adog training program designed to really build adult focus, responsiveness, and reliability to command under a wide variety of circumstances. Focus on work under distraction is key, and once they have mastered the basics, teens spend a lot of time working out in public, on crowded sidewalks, in all sorts of different buildings: hardware stores, feed stores, the vet's office, hotels, and off leash here at the ranch and depending on progress up on the trails.
All of the dog training programs at The Arizona Doggy Dude Ranch contain the core nine pieces:
Household manners
Handling manners
Building balanced, confident behavior with humans and dogs
Novice level obedience commands
Full offleash reliability
Leash manners
Distraction training in public
Management plan to meet your individual needs
Nutrition counseling
All of the dog training programs at Arizona Doggy Dude Ranch also include a day and a half dog owner training at the end of the program AT NO ADDITIONAL CHARGE and a lifetime guarantee of availability to answer questions and troubleshoot scenarios to insure that what your dog has learned goes home with you and doesn't just stay here at the ranch! I want everything your dog has mastered here at the ranch to transfer to your home setting. We are known nationwide for our pioneering owner transfer training, and thoroughly enjoy our time building that connection between you and your dog.
HAVE THE DOG EVERYONE OOHS AND AHS OVER. TEEN CAMP IS FOR YOU!
Call NOW and talk to us about your dog training needs
520-266-3124