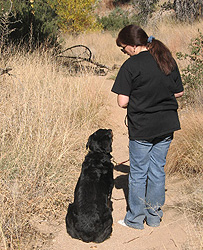 Dog Boarding School not for you? You prefer a more hands on approach? We also offer Private Dog Training Lessons. Dog Training Private Lessons are available starting at $600 for a six lesson series depending on the nature of the problem. Material covered is the same as for the dog training board and train programs, as described below, the only difference is that you will be doing the homework, instead of me.
All of the dog training programs at Arizona Doggy Dude Ranch contain the core nine pieces:
Household manners
Handling manners
Building balanced, confident behavior with humans and dogs
Novice level obedience commands
Full offleash reliability
Leash manners
Distraction training in public
Management plan to meet your individual needs
Nutrition counseling
Call 520-266-3124 for dog training private lesson availability.