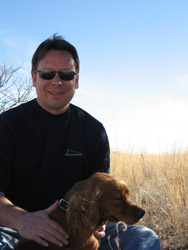 Yearling English Cocker with a rehabbed retrieve enjoying a beautiful working expedition with his owner during transfer training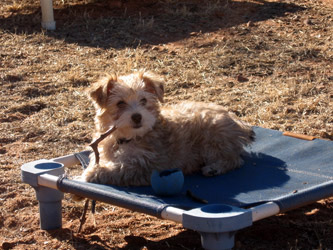 One of the many pups started at ADDR, chewing a stick up on his place board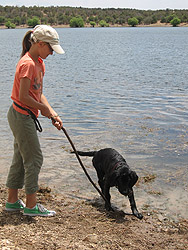 Young Brody (4 month old) on his first off leash expedition to the lake with "his kids" during owner transfer training
Puppy Camp: Starting Things Right
For pups from 4 - 8 months
All of the dog training programs at ADDR contain the core nine pieces:
Household manners
Handling manners
Building balanced, confident behavior with humans and dogs
Novice level obedience commands
Full offleash reliability
Leash manners
Distraction training in public
Management plan to meet your individual needs
Nutrition counseling
All of the dog training programs at ADDR also include a day and a half owner training at the end of the program AT NO ADDITIONAL CHARGE and a lifetime guarantee of availability to answer questions and troubleshoot scenarios to insure that what your dog has learned goes home with you and doesn't just stay here at the ranch! I want everything your dog has mastered here at the ranch to transfer to your home setting. We are known nationwide for our pioneering owner transfer training, and thoroughly enjoy our time building that connection between you and your dog.
Puppy training: START THEM RIGHT!!!!
It's so much easier to BUILD behaviors than to UNDO behaviors. I love having the fresh slate youngsters. They are a blast and soak up learning like a sponge. You'll be amazed at what they can master at age appropriate levels.
For the young pups, I still expect them to master all the core dog training basics. It's just that the curriculum may be slowed down and broken apart into smaller pieces of less complexity. And, we want to keep the focus on fun and motivation to build a desire to learn and please. THESE ARE BABIES, but that doesn't mean that they can't learn how to behave and behave well. The earlier we start, the BETTER.
Key differences in how I work with the babies depending on the puppy's age:
How long I work with the puppies at a time, shorter sessions, more repetitions for the puppies;
The level of precision expected may not be quite as tight, for e.g. loose leash walking for a 4 month old, vs. more precision heeling for an 8 month old;
Durations are shorter, for e.g. a 2 minute sit or down for a 4 month old, vs. a 10 minute sit or down for an 8 month old;
We may plateau at certain levels and repeat more for younger pups than older dogs;
Complexity of distractions in public may be brought on slower.
YOUR PUPPY HAS KEY DEVELOPMENTAL PERIODS JUST LIKE A CHILD. Let a dog training pro take advantage of using those key time periods to best advantage. There is a profound difference to the maturity of a pup who has been socialized and dog trained well and correctly at a young age to one who has not. Your pup grows from success to success.
Call NOW and talk to us about training your puppy
520-266-3124