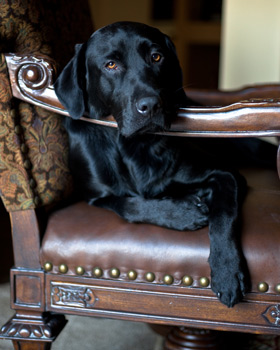 Hi there -
Thought I'd send a quick pic and an update on Brody since he has hit his one year anniversary from "boot camp" already.
We took him to flagstaff for the 4th again and he did wonderfully!! Another year of being stopped and told what a beautiful and well behaved dog we have.
He is on "his" chair in the photo - the only one he is allowed on and adheres to the rules all the time. He is weighing in at about 78 lbs. A true gentle giant and is always at Sophie's heels.
Hope you are doing well and keeping cool!
Shellie Ferguson